Designed in the UK and built for the world market.
Each one of our boats is built to survive all weathers and provide a safe method of travel whilst out on a lake, river or in the sea.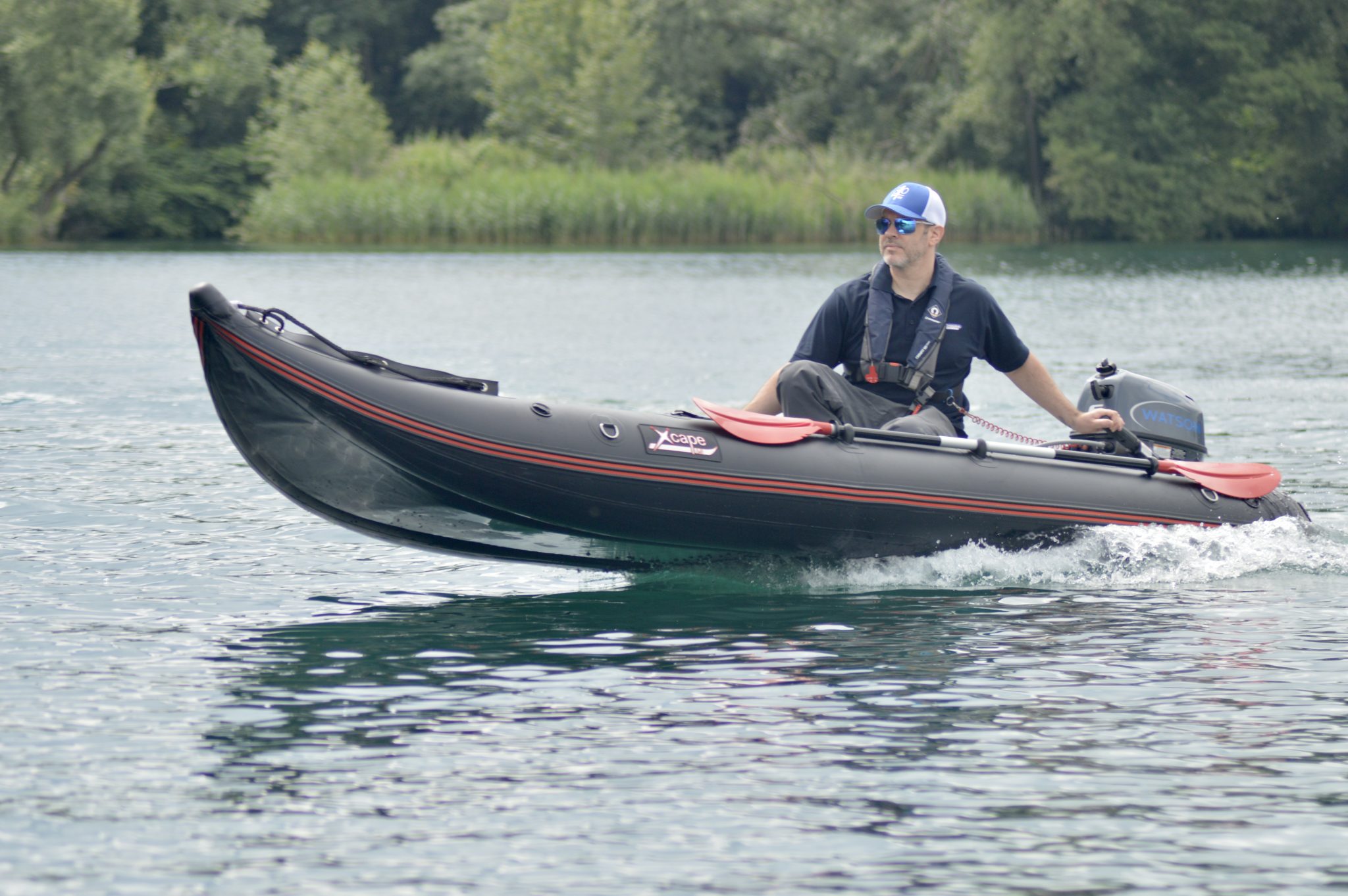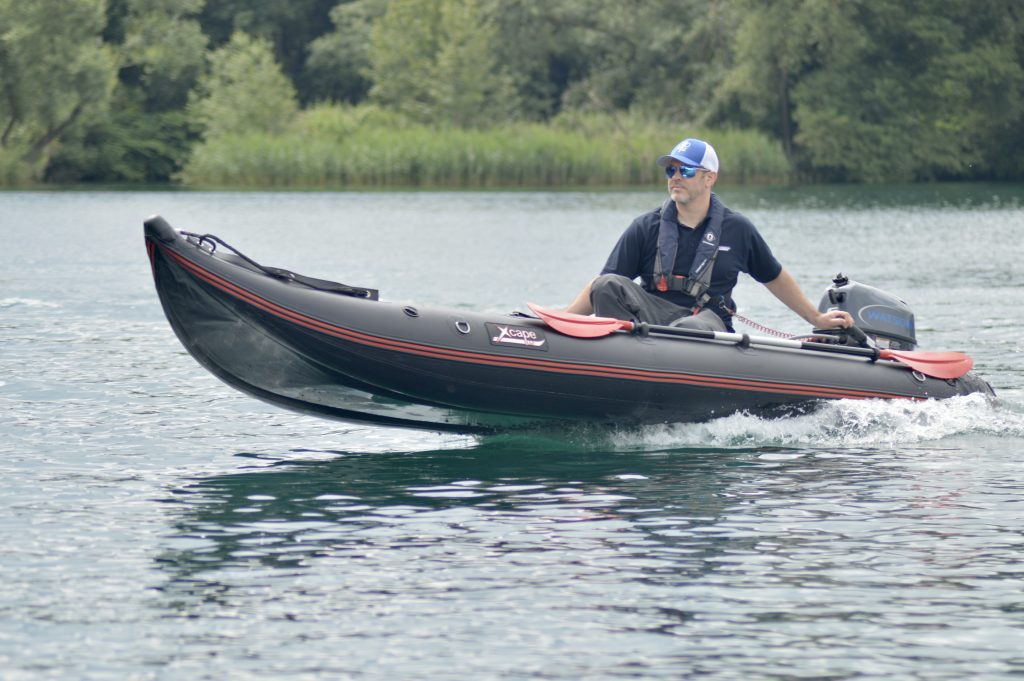 The Xcape 4.0 Packable crossover Kayak is available in Onyx black with Red striping and made using the latest generation 1100 Denier (0.9mm) PVC reinforced fabric with polyester support which offers excellent abrasion and tear resistance. As each seam is hand glued with four layers of bonded fabric it offers maximum strength and durability. Two sheets are overlapped and glued before two re-enforcement layers are attached either side.
Glued seams offer better durability to welded seams when the PVC product is designed to be inflated and deflated on a regular basis. Our choice of fabric and seam design means Xcape Marine boats are built tough and designed to last. 
Internal Bung System
The Xcape 4.0 uses an internal bung system which can be opened and closed from onboard and allows easy draining of any unwanted water.
Floor 
Using the lasted in Air-deck technology the Air Floor is an integral part of the boat design. It offers rigidity to the boat design and gives you great stability. Our lightweight, removable high pressure air floor system is constructed using the latest drop stitch technology. You will find the same technology being used in many inflatable paddle boards. This system is comprised of thousands of interwoven stitches holding both sections of fabric in parallel. Once inflated, this system provides extreme rigidity to the boat and ensures set up and pack down is easy and quick. The air floor's construction also absorbs vibrations and is comfortable underfoot and once inflated is extremely rigid. When deflated the air mat is rolled up for ultimate portability.
Seating
The Xcape 4.0 optimises it's size by utilising adjustable sliding seats. This allows the occupants to have maximum leg room or storage area if boating alone.
 5x Valves
When our in-house team design our range of boats safety is always our main focus. Using quality valves is imperative, so our whole range of inflatable boats and Kayaks utilise Halkey-Roberts valves designed for easy inflation and deflation.  The Xcape 4.0 boasts 5 air tight inflation compartments including the floor, which greatly enhance the safety of the craft.  Having extra air compartments will maintain stability in the unlikely event of losing pressure in any of the compartments.  All valves have a double seal for leak protection and are widely used by quality inflatable boat manufacturers.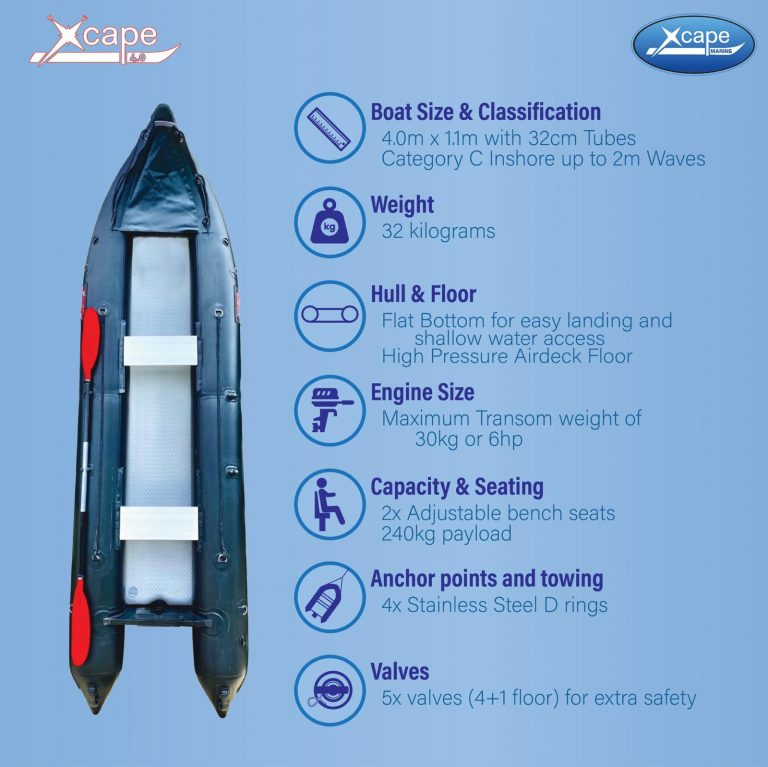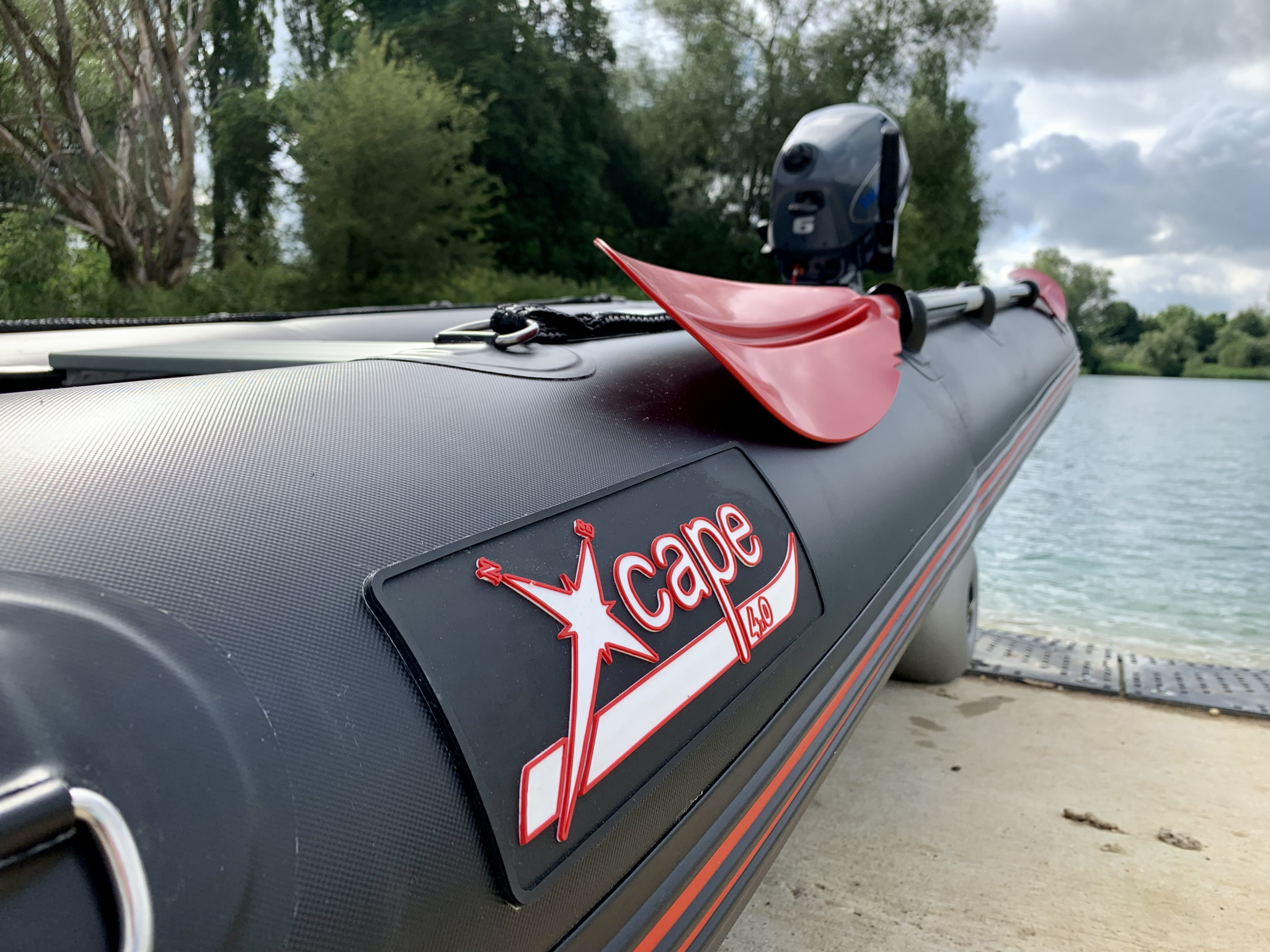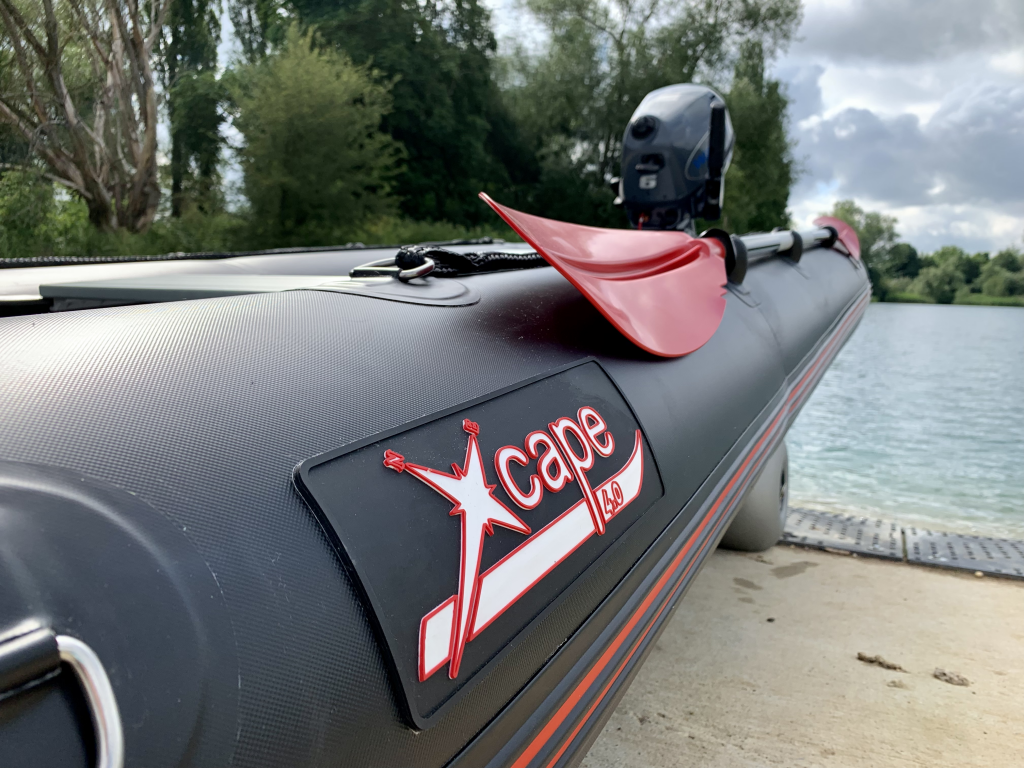 Transom
The transom is made with marine plywood and coated with tough 0.9mm, 1100 Denier PVC fabric then fitted with outboard / electric motor protection plates.
Maintenance 
Our boats require very little maintenance. However we recommend the following to maximize the lifetime of your boat:
Always rinse your boat off with fresh water after use in salt water.  If storing your boat outside for several days ensure it is covered and out of direct sunlight.  Xcape Marine boats can be stored inflated or deflated. If inflated we recommend using a boat cover. If deflated we recommend using the carry bag provided.
Your local marine store will be able to recommend PVC inflatable boat cleaner.
Our PVC material is extremely durable however avoid sharp objects or highly abrasive materials.  We do not recommend using solvent or chemical based cleaning agents on your Xcape Marine Boat.